Day 13: "Anime Character You Are Most Similar To"
I am personally trying to figure this one out…  I've received this question many times, however, I am still unable to come up with an answer.  To solve this issue of me not knowing, I took a quiz.  It appears that there were only main anime characters as potential outcomes, since each time I took a different one I kept getting popular characters.  Out of the three quizzes that I took I received: L, Akame, and Kirito.  Although I do not remember much about these characters, I would feel honored to be considered as smart as L, or as athletically inclined as Kirito.
I am going to go with L Lawliet.
Synopsis: A shinigami, as a god of death, can kill any person—provided they see their victim's face and write their victim's name in a notebook called a Death Note. One day, Ryuk, bored by the shinigami lifestyle and interested in seeing how a human would use a Death Note, drops one into the human realm.  High school student and prodigy Light Yagami stumbles upon the Death Note and—since he deplores the state of the world—tests the deadly notebook by writing a criminal's name in it. When the criminal dies immediately following his experiment with the Death Note, Light is greatly surprised and quickly recognizes how devastating the power that has fallen into his hands could be.  With this divine capability, Light decides to extinguish all criminals in order to build a new world where crime does not exist and people worship him as a god. Police, however, quickly discover that a serial killer is targeting criminals and, consequently, try to apprehend the culprit. To do this, the Japanese investigators count on the assistance of the best detective in the world: a young and eccentric man known only by the name of L.
Source: MAL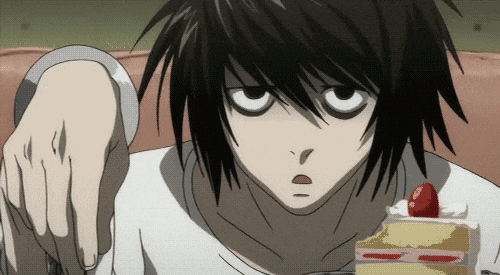 I guess there are some similarities between the two of us.  We both seem to have a hard time communicating with others.  We prefer to observe, rather than join in on the conversation.  After reading up on his synopsis on MAL, I found out that the two of us each have been on tennis teams before.  Also, Lawliet and I tend to prefer sweets over everyday food.  Cake is a weakness of mine too.
The only physical characteristic we have in common are the bags under our eyes.  I tend to stay up rather late, so they occasionally make there appearance on my face.  I believe that is the only physical trait we share, taking into account that Lawliet is male, while I am female.  I would say that we both tend to overthink things and question ourselves more than the average person, but that is about it for similarities.