Day 8: "Favorite Anime Couple"
Although I spend the majority of my time ogling the males in an anime, I also ogle the adorable couples.  It was rather challenging to decide between my favorite couples, however, I finally narrowed it down to one…Usui and Misaki from Maid-sama.
Synopsis: Being the first female student council president isn't easy, especially when your school just transitioned from an all boys high school to a co-ed one. Aptly nicknamed "Demon President" by the boys for her strict disciplinary style, Misaki Ayuzawa is not afraid to use her mastery of Aikido techniques to cast judgment onto the hordes of misbehaving boys and defend the girls at Seika High School.  Yet even the perfect Ayuzawa has an embarrassing secret—she works part-time as a maid at a maid café to help her struggling family pay the bills. She has managed to keep her job hidden from her fellow students and maintained her flawless image as a stellar student until one day, Takumi Usui, the most popular boy in school, walks into the maid café. He could destroy her reputation with her secret… or he could twist the student council president around his little finger and use her secret as an opportunity to get closer to her.
Source: MAL
Usui is a 2D dream boy.  I first decided to watch the anime for his beautiful character, however, I continue to watch it for the playful relationship between him and Misaki.
Maid-sama is definitely one of those anime that you can watch time and time again, in my opinion.  I find myself having withdrawals, wanting to re-watch it again, every one in a while.  The anime was one of the select few that made me fully dive into the anime fan base/fandom/otaku wonderland after going on break and not watching a series for a couple years.  The indisputable bond between the two main characters, Usui and Misaki, makes you want to continue watching to see where their relationship goes.  I loved watching their friendship develop from having constant rivalries to becoming lovers towards the end of the series.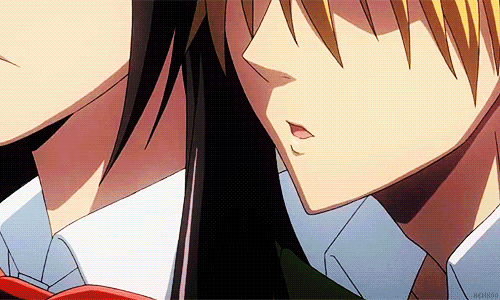 Usui is a playful and carefree character who only seems to care about what Misaki has to say.  He will go out of his way to not only protect her, but also to keep her to himself.  While Misaki remains oblivious to Usui's feelings, Usui continues to follow her around and assist her in more situations than she knows of.
I love the playful nature of the two's relationship.  The two are perfect together.  They are able to take their frustrations out on one another without having to fret about hurting the other's feelings.  They always seem to make-up after the two argue with one another.  They never take their disputes too seriously.  Another quality of theirs that makes them interesting to watch is their stubbornness.  They refuse to share just how much they care about each other, making me constantly craving more out of their relationship.  I nearly had a heart attack from the exciting scene where Usui gave her a hickey on her back so she could not wear a bikini.  It is always a nice surprise to see some development between the characters, especially on the romantic level.
I definitely need to pick up the manga since the anime was only twenty six episodes long, sadly.  The anime aired in 2010, which leaves me eagerly waiting for another season that is very unlikely to happen…I can dream.